E-democracy and elections are often some of the most important activities an organization undertakes internally, and our mission at Simply Voting has always been to help ensure our customers protect their critical projects. To this end, we've recently rolled out an improvement to customer account security.
As you may have seen already over the past couple of weeks, or will see upon your next account login, you will be prompted to complete Security Questions and Answers.
The Security Questions and Answers tool joins our other newly improved Account Recovery and Password Reset tools for customer accounts. You will find these new tools located on the Election Manager login page, as shown below and highlighted in orange. Now if your forget your Voting Website, you can recover your account by clicking on the appropriate link. And if you forget your Password you can similarly reset your password without going through Simply Voting staff by answering your security questions. If you are ever locked out of your account or have any issues, our Support Department is always just an email or phone call away!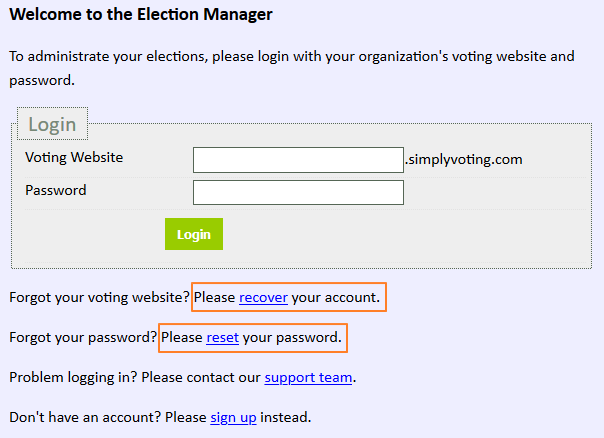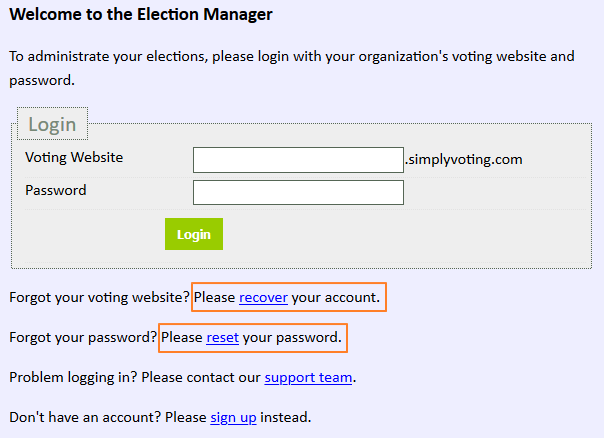 The Account Security section inside of the Election Manager tool, on the Settings page, is also where you can update your password or adjust security questions as necessary, such as during the transition of account ownership from one election official to another election official from your organization if you have periodic staffing changes.
A step-by-step walk through for recovering your account or resetting your account's password can be found inside our Election Manager Guide as well.
And as always, don't hesitate to reach out to our Support Department if you have any questions or concerns about this enhancement, or anything else with which we might be able to assist!